Most of the major economic indicators released at the end of 2007 signaled weaker business conditions for the U.S. manufacturing sector, but activity levels for North American mold builders bucked this trend and showed some improvement in recent weeks. Our Mold Business Index (MBI) for December is 53.7. This is a 7.2-percentage point increase from the November value of 46.5. Increases were registered in the core New Orders, Production, Employment, and Backlog components. The bad news came in the form of longer Supplier Delivery Times and higher Materials Prices. The Future Expectations held firm at 66.7 in December.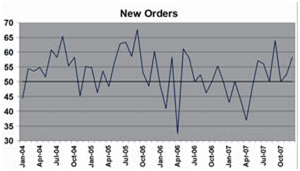 Orders for new molds increased ever-so-gradually during the second half of 2007. Growth during the first half of 2008 is expected to be sluggish,
but momentum is expected to build in the second half of the year.
The probability that the U.S. economy will soon fall into a recession has risen in recent weeks. However, we still believe the most likely scenario is that overall economic growth will decelerate, but remain positive through the first half of 2008. This means that total demand for new molds and tooling will remain very close to the current level in the first and second quarters of this year before growing more steadily in the second half of 2008. The downside risks to this forecast are the unpredictability of the crude oil market and the ongoing struggles in the residential construction sector. If energy prices remain at their current elevated levels, then the chances of a near-term recession in the U.S. economy increase significantly.
The American mold makers will benefit from the low value of the U.S. dollar versus the other major currencies throughout 2008, while the Canadian mold makers will remain pressured by the exchange rate situation. The current deceleration in the U.S. economy notwithstanding, global demand for plastics products is growing and capacity utilization rates for the plastics industry remain at a strong level.
The sub-index for New Orders of molds registered 58.3 in December, which means that overall new business was significantly higher when compared with the previous month. Future gains in the total MBI depend on continuing increases in new orders of molds. Production levels also escalated, as the latest Production sub-index was 63.9. The Employment component was 58.3, which means that there was a rise in overall payrolls last month. The Backlog component was higher at 52.8 in December.