Mold design:
Building a high quality mold is the core focus of Eco molding.We have 10 highly experienced mold designers, who have significant experience in resin characteristics, and mold structure.Before we start a design,Our designer will run a Mold Flow Analysis ,This analysis is reviewed by the designer,together with tool shop and injection molding shop. this  avoids potential manufacturing issue and provides an opportunity for trouble shooting. The collaboration of our departments provides a strong guarantee that  Eco molding can provide high quality mold in a short lead time.Our Service include: Product Design, Appearance Design, Structure Design, Mold Design (2D & 3D), DFM (Design for Manufacturability), and Mold Flow Analysis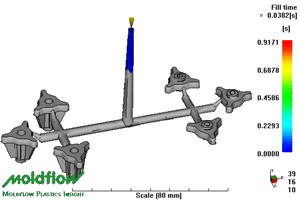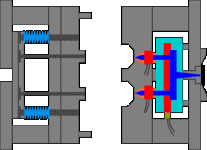 Project Management:
Strong project management is our key to the success and quality of our products ,All of our Project Engineers not only have significant experience in tooling and injection molding ,but are also fluent in english.The Project Engineers are responsible for the follow up of tooling process ,and for the timely reporting of the project's progress to the customer .
Our mission is to provide:
1,On Time Delivery
2,An Assurance that our customer's project is produced according totheir order and standards
3,That communication is provided in a timely and clear maner
4,Complete project management and support from concept to final part inspection and approval.
Mold Standard:
Mold Steel: ASSAB(Sweden), DAIDO(Japan),FINKL(America),AUBERT & DUVAL(France), Thyssen(Germany), LKM (China)
Mold Base: EMP,DME, HASCO, FUTABA, LKM.
Hot Runner: MOULD MASTER, SYNVENTIVE, HASCO, DME, YUDO, INCOE
Standard Parts: DME, HASCO, LKM,HEB,STRACK,OPITZ
Texture: VDI 3400,Mold-tech, Yick Sang, Tanazawa etc
Software:Pro/Engineer,Solidworks,AutoCAD,Moldflow, Unigraphics, CATIA, MasterCAM

Mold making in-house :
Our Mold shop is well equipped with latest machines,such as High speed CNC mchines,EDM wire cut machines,Mirror finish capable sinker EDM machines,They are all imported from Taiwan,Switzerland and Janpan.These machines help us to ensure the molds are manufactured to the highest precision with a quality finish.Moreover all of our process are in house ,which allows us accomplish short lead times,Our shop has 30 skilled toolmakers,most of whom have more than 10 years of mold making experience,They are familiar with all machining processes,the costs of each step,can trouble shoot during the mold building process.Our staff is vitally important to our comany,Their experience and hard work allow Eco molding guaranttee a high quality mold at a resonable price.