Injection Mold Tooling
As we know, if you want to produce a plastic product,you should make a injection mold tooling first.the mold is the key equipmemt for the shape.so let's lear what the injection mold tooling is.
The injection molding process uses molds, typically made of steel or aluminum, as the custom tooling. The mold has many components, but can be split into two halves. Each half is attached inside the injection molding machine and the rear half is allowed to slide so that the mold can be opened and closed along the mold's parting line. The two main components of the mold are the mold core and the mold cavity. When the mold is closed, the space between the mold core and the mold cavity forms the part cavity, that will be filled with molten plastic to create the desired part. Multiple-cavity molds are sometimes used, in which the two mold halves form several identical part cavities.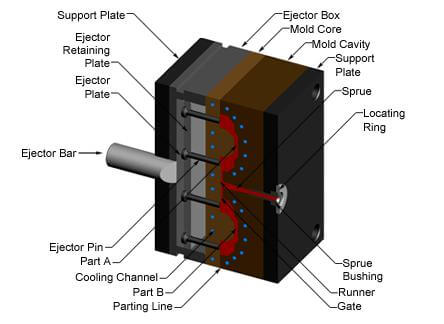 The mold core and mold cavity are each mounted to the mold base, which is then fixed to the platens inside the injection molding machine. The front half of the mold base includes a support plate, to which the mold cavity is attached, the sprue bushing, into which the material will flow from the nozzle, and a locating ring, in order to align the mold base with the nozzle. The rear half of the mold base includes the ejection system, to which the mold core is attached, and a support plate. When the clamping unit separates the mold halves, the ejector bar actuates the ejection system. The ejector bar pushes the ejector plate forward inside the ejector box, which in turn pushes the ejector pins into the molded part. The ejector pins push the solidified part out of the open mold cavity.
The mold life is different depends on the steel of inserts,if the inserts are made by pre-hard steel.the usual mold life is 300,000 shots.if the mold core and cavity inserts made by harden up steel,such as 1.2344,the mold life will reach 1,000,000 shots. The mold tooling is not cheaper because that the material(steel) is expensive,the process is very complicated and need rich experience staff.the price ranged from 1000-300,000USD